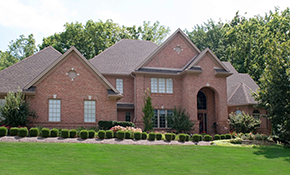 American Landscaping Lawn Services offer a comprehensive range lawn maintenance services in Alpharetta, Roswell, Marietta, Woodstock, Sandy Spring, and Cumming Georgia. We maintain your lawn to look nice and knit with essential fertilizers, and week control. The mowing, trimming, edging, blowing, and discarding of the debris is done as per customer's needs. We are also, a full scale landscaping company. We make beautiful court yards and play-ground's back yards and then maintain them as well. We install new trees, shrubs, ground covers, annual beds, flowers, seeding, irrigation, sodding, drainage, and erosion controls. Our hardscape services include retaining walls, patios, walkways, driveways, steps, water features, dry creek beds, and whatever you have in mind not mentioned here. We have been a grade "A" with hundreds of positive reviews for many years. We specialized in Hardscape with many features that will change the look of you yard using natural stones, pressure treated wood, retaining walls, pathways, patios, a court yard with trees and flowers or even a water feature.
Continue Reading....
Landscape Design American Landscaping Services offer a comprehensive range of landscape services throughout the region including new design, redesign, planting trees, shrubs, ground covers, annual beds, flowers, seeding and sodding. Atlanta Landscape, Atlanta Retaining Walls, Landscape Contractors, Designers, Landscape Company. Hardscape/Stonework Hardscape can mean retaining walls, stone path, patio, or even a water feature. All
We offer many different ways to create a beautiful Playgrounds, Courtyards, Pool areas, front and backyards with all the tools available for you to make the comfort you desire when you look out your window. Most customer are very happy with our written proposal and explanation of where things go. BUT, we also offer full drawn landscape designs for those who like to see it all in Colors or just in a black and white Sketch.
Atlanta Landscape Designs for Retaining Walls, and French Drain are offered. Our Engineer designs are mainly used when it is required by the city you lived in, in order to get a permit. The other landscape designs are done only for the customer or HOAs with flowerbeds, trees, sod, patios, benches, pools, decks, driveways, walkways, steps, and more. We work very close with our engineer and landscape designer to better serve you in completing your landscaping projects.
Continue Reading....