Hardscape can mean retaining walls, stone path, patio, or even a water feature. All our work is guaranteed. References provided, etc. Over 24 years experienced building custom patios, walkways and retaining walls. The concept of hardscape is to introduce into the landscaped environment stone, wood, water and earth. These natural elements play such an important part in the overall feel and function of the project.
When planning hardscape installation, be sure to check utility and water line placement, soil condition and safe equipment access.
Many projects were taken at this customer's home. If you would like more information about them, please contact us.
Flagstone concrete patio and steps provide a durable and beautiful alternative to concrete, pavers or asphalt for patios, walkways, driveways, fountains…even streets. Numerous options exist for color and texture.
The natural stacked stone retaining walls were installed with concrete footing, rebar, dead man, and poured concrete.
Also, a drain system with weep holes and 57 stone gravel were installed to drain the water from behind the retaining walls.
Poured concrete retaining wall and flagstone patio.
Stacked Tennessee Fieldstone retaining wall also provides a durable and beautiful alternative to concrete or asphalt.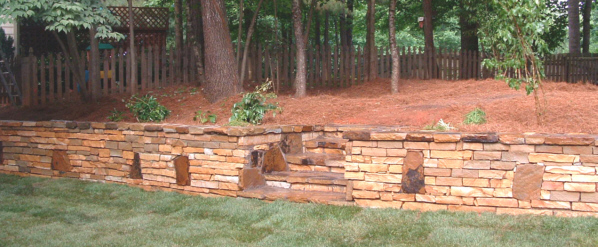 Tennessee Crab Orchard Flagstone Patio another alternative to concrete or asphalt for patios and sidewalks.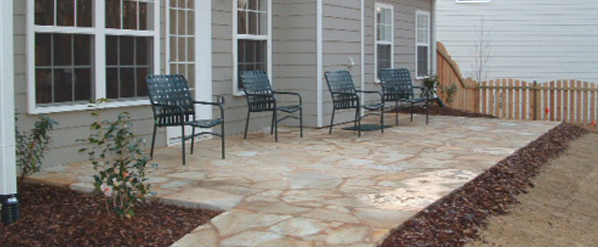 Below you can see center steps built with Flagstone.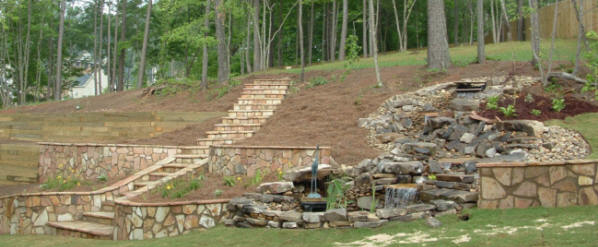 Crab Orchard Flagstone Center Steps.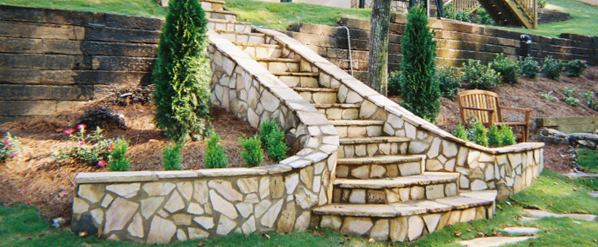 A small stacked stone wall with Fieldstone dressed with a flagstone patio, steps and shrubs.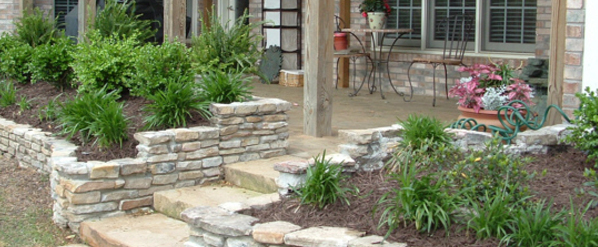 A natural look can be added to the steps with treated timbers.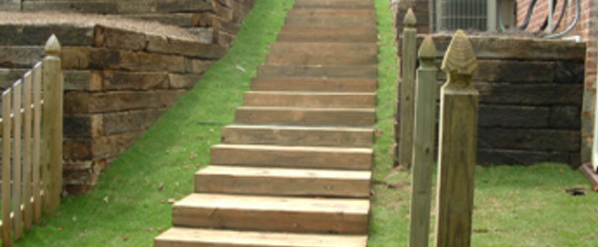 Modular Retainig Walls.
Engineered Allan Block Retaining Walls.
Allan Blocks beautiful outdoor retaining wall systems create an extension of your home and lifestyle.
Ground Preparation to stand any weather condition, compacted for better results with the right materials.
Allan Block Retaining Wall Systems come in a wide range of sizes to fit your project – from garden walls to landscaped terraces to large scale retaining wall projects.
Finished product.
Natural flagstone path.
Flagstone sidewalk, flagstone patio and stacked stone retaining wall with small columns.
Stacked Stone Terrace Style Retaining Walls.
Before and After
Water Falls
Please call us at 770-573-9794. We provide free estimates on landscaping projects for Many Atlanta Areas. Lawn Maintenance services only for Marietta, Roswell, Alpharetta, Sandy Springs, and Cumming. We are registered licensed and insured.